By Abby Born

As we enter into March, we enter in with fresh minds as Spring is clearly on its way. The bitter cold winds are finally beginning to subside, and the piles of gray snow that have tormented us all winter are finally starting to thaw. It is difficult to begin March without the prospect of positive change, as the beauty that has been trapped under the ice since November is finally freed. How fitting it is that March is the month to recognize Women's History, and more specifically, that March 8

th

is International Women's Day.
Powered by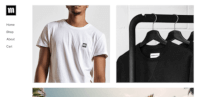 Create your own unique website with customizable templates.